Book Notes: THE HOUSE BEHIND THE CEDARS, Charles W. Chesnutt (1900)
Bethany —Thu, 06/02/2011 - 20:27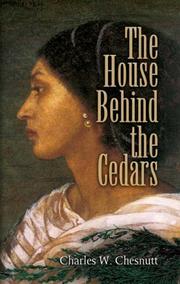 Prior to The House Behind the Cedars, Charles Chesnutt had successfully published several short stories and two story collections; The House Behind the Cedars was his first full-length novel. The narrative follows mixed-race siblings John and Rena Walden—a.k.a. John and Rowena Warwick—as they navigate the changing socioeconomic caste system of the Carolinas during Reconstruction.
The Walden family lives in Patesville, North Carolina. Son John Walden unofficially apprentices himself to Judge Straight and becomes a lawyer. He moves to South Carolina, where no one knows him, and where legal ambiguities allow him to pass as a white man. (According to Chesnutt, a lawyer originally from North Carolina, this was in fact the actual legal situation in South Carolina at the time.) John becomes socially and financially successful under the name of "John Warwick." Several years later, he returns to Patesville and invites Rena to live with him. She is reluctant to leave their mother, Mis' Molly, but eventually does so in hopes of obtaining a better life.
Rena—known in South Carolina as "Rowena," a nod to Sir Walter Scott's Ivanhoe—meets a handsome and impetuous young man named George Tryon. They become engaged. She hints at her racial background but doesn't directly tell him that she has black ancestry. Shortly before their wedding, a series of unfortunate (and improbable) coincidences reveals her "true" race to him, and he immediately rejects her. She despairingly decides to spend her life teaching school and never marry; he goes home and courts the nice white girl his mother has picked out for him. His love for R(ow)ena wins out, though, and he decides he'd rather have her than Blanche, regardless of what it might cost him.
Tryon ventures forth to win back his lady-love, whose school happens to be near his home. Unfortunately, at the same time, another man is also pursuing Rena—literally—with similarly amorous (but far less honorable) intentions. She eludes them both, gets lost in the swamp, becomes extremely ill, and deliriously walks several miles to her mother's house, where she dies. Tryon misses her by a few hours—possibly minutes.
This text is notable for its treatment of racial passing and of the Tragic Mulatta trope. The plot feels like an Americanized, race-themed "Romeo and Juliet." Through the plot, winsome characters, a fair amount of narrative commentary, and well-placed sarcasm, Chesnutt argues persuasively against the arbitrariness of "black" and "white" hierarchy, which is rooted in neither physiognomy nor biology, but senseless (and changeable) social perceptions.
Chesnutt, Charles W. The House Behind the Cedars. 1900. Mineola, NY: Dover, 2007.